FLASH SALE - RevoSpin Infinite LED RAL-6 Round 360 Photo Booth Deluxe Package (AUTOMATIC, TRAVEL CASE INCLUDED)
$3,500.00 $9,700.00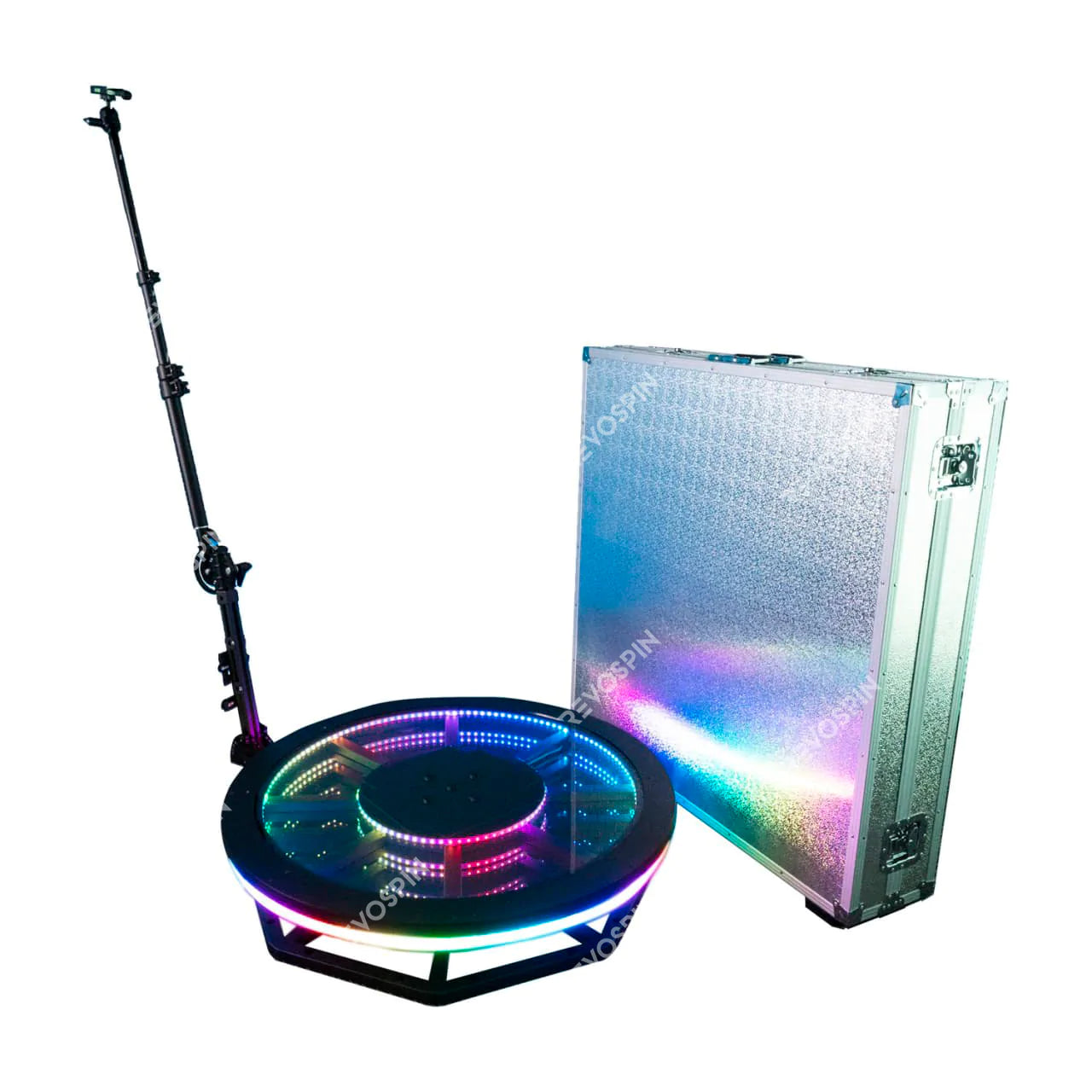 Experience the 360 revolution with the most portable 360 photo booth in the market. 
The Revo Infinite LED Round is extremely easy to transport and setup so you can be in and out of your event in minutes. 
If you know how to record a video on Instagram, Facebook or Snapchat then the 360 photo booth software will be super easy for you to figure out.
Make your money back in just 2 to 3 events! The average rental for the 360 photo booths is around $500 per hour! 🤑
🤔 Let's do the math:
One 3 hour rental = $500 x 3 hours = $1500
Do this twice in one month: 3 x $1500 = $4500
Your investment will be FULLY PAID OFF! Plus extra on the side for some Starbucks. 😋
So what do we suggest you do? When you start to get double and triple booked, buy more platforms to scale your business. 
With just two 360 platforms it is possible to make a 6 figure yearly income!!
How??
If you rent out two of your 360 photo booths (3 hour rentals each) every weekend you will make roughly $12k per month. Now times that by 12 months...
Thats $144k!! 😮
You see, sky is the limit... and what we love about this new product is that if you put in the work you will reap the benefits.
Trends like this come once in awhile.. do not hesitate.. RIDE THE WAVE!! 🏄‍♂️
Watch this 360 photo booth behind the scenes video!

Check out this video to see how easy it is to spin the arm!
See this video for 360 Photo Booth Demonstration
Andrew from California Came to Visit Us in Las Vegas!
Shanetta from Chicago Came to Visit Us in Las Vegas!
Customers Love The 360 Experience At WMBA
Puff from Hemet, California Came to Visit Us in Los Angeles!
Catina from Atlanta, Georgia Came to Visit Us in Las Vegas!
Customers Love The 360 Experience At Fresh Wata
WHAT YOU ARE GOING TO GET:
✅ FREE SHIPPING! Lead time: 3 Days ($197 Value)
✅ FREE 3 Month Subscription RevoSpin 360 App Pro+ (100's of premade templates)
✅ FREE Personal 1-on-1 software training ($297 Value)
✅ FREE 5 Page Website ($750 Value)
✅ FREE 3 Month Subscription To Linq
✅ BONUS - Access to RevoSpin's private Facebook group with other photo booth owners from around the world! Membership includes priority customer help, trainings, business ideas, marketing tips, exclusive discounts, and more! 
FEATURES:
Made In The USA
➡️ Low Profile and Lightweight
➡️ Accommodates Guests Of All Sizes 
➡️ Easy Setup and Transport
➡️ 1 Year Manufactures Warranty
SPECIFICATIONS
Dimensions:
Base Height: 6.5"
Diameter: 35"
Arm: 60"

Weight:
76lbs

Total Weight with Case:
113lbs

Note: Our 360 photo booth platform does not include iPhone or electronic equipment. Recommended parts are available on our accessories page.