20ft X 20ft Wireless Led Pixel Animation Starlit Dance Floors
$22,000.00 $35,000.00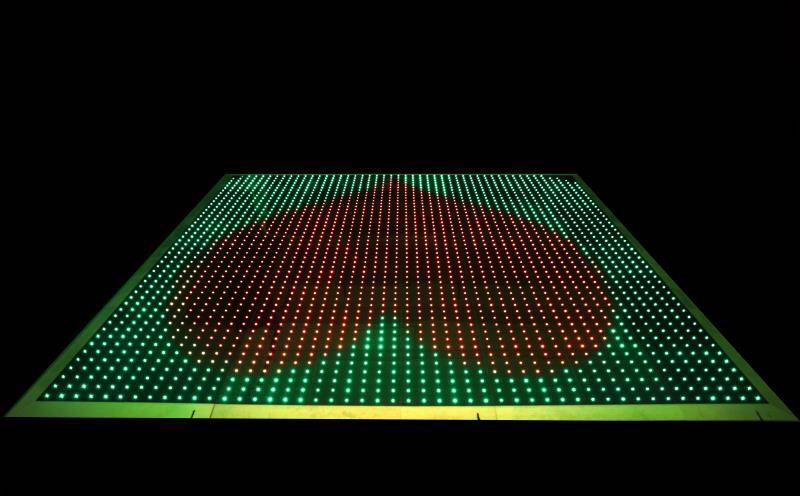 VersaSound's popular RGB Pixel dance floor is digital dance floor which design for Club , Party ,Dj , Events.  It could create many amazing effect, a great partner for the event designer.  
Pixel dance floor create color pattern images, show text words, display low resolution flash videos.
Dance floor is designed as a monitor, images ,color design and videos comes from control box or computer that is base on RJ45 technique, easy for user to operated.
Patterns or videos could be design by user, it provide a wide creative space for user , not matter to display texts , image or videos, user could be the designer for his events, weddings.
Pixel dance floor is same as starlit dance floor , it has locking system to avoiding dance floor move away when people dancing on , it also won't damaged if water drop on top. But remember dance floor couldn't be sink into water ,cause it is not totally water proof.
Dance floor has two size : 2 x 2ft or 2x4ft , they could connect together to make good looking shape.
Versa Sound Digital Dance Floors are sold as a set of 10ft X 10ft with all the accessories including edges complete with road cases.
What's Included with this Order:
8 Panels of Led Pixel Animation dance floors 2*2ft
28 Panels of Led Pixel Animation dance floors 2*4ft
1 Controller software
1 Power Supply  (1000W)
1 Remote Control
1 Edge (set) of 16ft X 16ft
5 Flight Cases
Digital Floor Specs:
16ft X 16ft Wireless Led Pixel Animation Starlit Dance Floors
Panel size: 2*2ft (60*60CM) - 15lbs also comes 2*4ft - 30lbs
Power Consumption: 28W Max.
Control Mode: DMX ,Pixel Controller , Madrix , Remote Control.
Function: Color patterns , image , cartoon videos, images effects ,type words ,color changed,color gradients,starlit effect. 
Light source: SMD5050, RGB, 36pcs
Working Temperature(℃): 0 - 35
Working Life time(Hour): 10000hrs 
Dance Floor Surface: Polycarbonate Acrylic
Color of surface:  White / Black
IP Rating: IP65
Input Voltage:  90V -240VMax output : 800W
Package:Flight Case (10 pieces in one) or Carton Box 
Pricing Disclaimer

Boothify does everything to ensure the accuracy of our website's prices. Boothify tries to keep these prices as constant as possible. However, there are inevitable cases where Boothify website's prices may change.

Prices may be changed any time without further notice.
Due to changing demand or economy, Boothify reserves the right to change the product's price at any given time without prior notice.